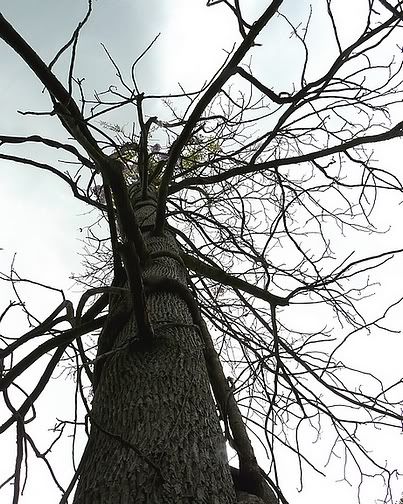 Thematic Photographic #118
click on the link to see more interpretations of Branched
Wisterian Bondage
is so named because what looks like huge coils of rope twisting around and around the trunk of this very tall tree and tying it to the ground is actually a wisteria vine. If you look closely you can see the little bits of purple and green WAAAY up at the top of the tree. The stormy day just added to the sinister feel and the name was a natural.
When given an assignment it is my nature to stretch the boundaries of the theme. I generally like to do something a little unexpected and out of the ordinary. When Carmi posted the theme this week he made a point of telling us that how we interpret a theme could be as "out there" (hey that's MY phrase!) as we wish. He said that branches didn't have to be something that originated as a seed, that the goal was to stretch those boundaries.
Contrary brat that I am, that's not what I want to do this week ... go figure huh? The thing is, the theme he chose was "branched" ... and it happens that trees are one of my very favorite subjects. I know ... we
see
trees everyday, but how often do we really
look
at them? I think I can present you with a few shots of 'branches' that are all different from each other and
hopefully,
thrown in a few surprises.
Sweet Gum
This osprey is just begging for a caption
Still Standing that's the Morris Island Lighthouse in the background


As much as I hated the idea, we had some pine trees taken down a couple of months ago. The were huge and brittle and hanging over the roof ... and hurricane season was upon us. It was fascinating to watch these guys in action. They tied off the branches and then used the ropes to lay the branches right where they wanted when they cut them.
Chaotic Good
Came across this tree out on the marsh near the lighthouse. Wonderful old tree will all the personality of the Whomping Willow without the attitude.