Oscar Wilde said "The truth is rarely pure and never simple", but Oscar Wilde was never a Simpleton. Why have I capitalized that S as if that were a proper name? Well, if you have to ask that question we need to stop right here. Before we go a step further let me introduce you to
Simple Dude in a Complex World
the blog of none other than The Simple Dude whose followers are lovingly called Simpletons.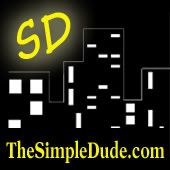 Click the button to visit The Simple Dude


If you haven't found it yet, you've either been sleeping or are fairly new to the blogging world here at blogger and you'll want to remedy that situation pronto. You might find anything there from bomb proof toilets to Wiener's wiener with just the right amount of snark for flavoring. AND you might want to hurry. He's coming up on his 5000th comment right quick and the lucky commenter that hits that milestone will get an $50 Amazon gift card.
Yep, I said FIVE THOUSAND comments! He has just over 2000 followers and he hasn't even been doing this a whole year yet. What's his secret? Well he's written an eBook to tell us that very thing. It's called ...
Just $1.99 click on the book cover to get your own copy at Amazon


Well written, SIMPLE instructions explaining just how The Simple Dude went from 0 to mildly famous in just 10 months. Filled with tips on what to do, what not to do, and interesting links to check out for further information. And for all that it's a "how to" book ... it's not even boring! He's got game, and his blog writing style doesn't get lost in the translation.
Not everyone is as talented a writer as he is to be sure, but I can guarantee that if you follow the advice in this book you CAN grow your blog. I've seen every tip he writes about in action and they DO get results.
There was only one small, teensy weenie incidental that I disagreed with in the whole book. Well, in general I don't actually disagree. It was just that I took it as a challenge because I'm just weird that way ;) What was that? Okay, I don't see this as being a spoiler, so I guess I can tell you.
You see, about content ... he made mention that NOBODY wants to hear about what kind of dog food you bought that week. And to be honest ... he's right ... BUT ... I think I could write and entire POST about that, in my twisted way, and it would not only be interesting enough to keep you reading until the end, but make you laugh too. Because my dog is funny when she's not sick (which she is again now, sigh). When I'm feeling up to it I might just accept that challenge.
If you're at all interested in growing your blog ... this is the book for you.
I've been quiet lately and a big part of the reason for that is that I've been very worried about Moppet. She recovered well enough from the eye injury and I don't think that's the problem. She was doing better than ever, all bouncy and lively. Then she got sick last week. Spent a whole day barfing. Now she's just very weak and refusing to eat anything, but doesn't seem to be in any pain. She seems to be a little better today, moving around a little bit on her own and I did just get her to take a couple of bites of cube steak.
She's old, I don't know how old exactly because I found her in a parking lot. Vet said that they don't usually get that film in their eyes until after they 10 years old. She had that when I found her and that was about 4 years ago. I know she's not going to live forever, but it's hard when you have to realize that the end may be sooner rather than later.
I'm not bailing, I've not retreated to my rock. I just wanted y'all to know why I'm not finding much to say. Even comments can be hard to write when my mind is elsewhere.
About the graphic: I couldn't believe Bryan and Brandon at A Beer in the Shower do their awesome cartoons in PAINT! I had played with it briefly before, but couldn't manage much more than scribbles. But their talented creations inspired me to try again. I can't for the life of me figure out how they get such clean lines drawing with a mouse, but I wasn't too unhappy with this one.
UPDATE
-
She ATE for me today, and was much more "here" while she was awake. Sleeping now but that's okay. I think she might make it after all.
>Happy dance!<